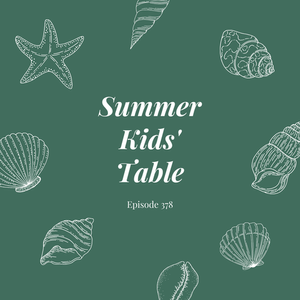 This week on From the Front Porch, Annie sits down with her friend, cousin, and former colleague Ashley Sherlock. Together, they make up members of their own family's kids' table. They talk about what they're reading, watching listening to, and buying this season.
The books mentioned in this episode can be purchased from The Bookshelf:
Watching:
The Essex Serpent on Apple TV+

Stranger Things season 4

Somebody Feed Phil

Top Gun

The Circle
Listening To:
The Big Picture podcast (Top Gun episodes especially)

Playlists by Fran Dorsey/Coppertone & Sarah Tolzmann/Note to Self/Chill Summer

Wilder Mind by Mumford and Sons

A Place to Call Home by Michael Ottosson
Buying:
Dresses from Target's Universal Thread line

August Cloth

The Olive & June summer collection
From the Front Porch is a weekly podcast production of The Bookshelf, an independent bookstore in South Georgia. You can follow The Bookshelf's daily happenings on Instagram at @bookshelftville, and all the books from today's episode can be purchased online through our store website, www.bookshelfthomasville.com. 
A full transcript of today's episode can be found here.
Special thanks to Dylan and his team at Studio D Podcast Production for sound and editing and for our theme music, which sets the perfect warm and friendly tone for our Thursday conversations. 
This week Annie is listening to Mary Jane by Jessica Anya Blau. Ashley is reading Normal Family by Chrysta Bilton.
If you liked what you heard in today's episode, tell us by leaving a review on iTunes. Or, if you're so inclined, support us on Patreon, where you can hear our staff's weekly New Release Tuesday conversations, read full book reviews in our monthly Shelf Life newsletter and follow along as Hunter and I conquer a classic. Just go to patreon.com/fromthefrontporch.
We're so grateful for you, and we look forward to meeting back here next week.
Our Executive Producers are... Donna Hetchler, Angie Erickson, Cammy Tidwell, Chantalle C, Nicole Marsee, Wendi Jenkins, Laurie johnson, and Kate Johnston Tucker.
Libro.FM:
Libro.fm lets you purchase audiobooks directly from your favorite local bookstore (Like The Bookshelf). You can pick from more than 215,000 audiobooks, and you'll get the same audiobooks at the same price as the largest audiobook company out there (you know the name). But you'll be part of a different story -- one that supports community. All you need is a smart phone and the free Libro.fm app.
Right now, if you sign up for a new membership, you will get 2 audiobooks for the price of one. All you have to do is enter FRONTPORCH at checkout or follow this link:
Flodesk:
Do you receive a weekly or monthly newsletter from one of your favorite brands? Like maybe From the Front Porch (Or The Bookshelf)... Did you ever wonder, 'how do they make such gorgeous emails?' 
Flodesk is an email marketing service provider that's built for creators, by creators, and it's easy to use. We've been using it for a couple of years now, and I personally love it. And right now you can get 50% off your Flodesk subscription by going to: