Episodes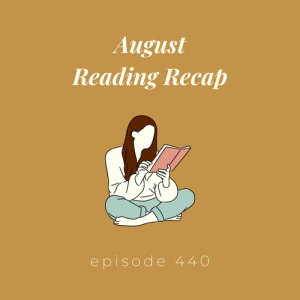 Thursday Aug 31, 2023
Thursday Aug 31, 2023
This week on From the Front Porch, Annie recaps the books she read and loved in August. As always, we're offering a Reading Recap Bundle, which features Annie's three favorite books she read this past month. You automatically get 10% off your books when you order your Reading Recap Bundle here!
You can get the books mentioned in this episode on our website (type "Episode 440" into the search bar to easily find the books mentioned in this episode):
Annie's August Reading Recap Bundle - $66.00
We Are Too Many by Hannah Pittard
No Two Persons by Erica Bauermeister
Small Admissions by Amy Poeppel
Interpreter of Maladies by Jhumpa Lahiri
The Wedding People by Alison Espach (releases May 2024, not yet available for preorder)
Small Admissions by Amy Poeppel 
The Only One Left by Riley Sager
Poverty, by America by Matthew Desmond
We Are Too Many by Hannah Pittard
The Vaster Wilds by Lauren Groff
No Two Persons by Erica Bauermeister 
For more information on One Book Thomas County, please visit their website here. In September, The Bookshelf is partnering with the Thomas County Library to re-launch our area One Book program. For 10 years, the Thomas County Library has hosted South Georgia's first (and only!) One Book program, where our entire community reads the same book together and celebrates that book with a variety of literary events.
This year, we're reading You're Not Listening: What You're Missing and Why It Matters by Kate Murphy, and our celebration of Murphy's book will culminate in a visit from the author at the Thomas County Board of Education auditorium on Thursday, September 28 at 7 p.m. Tickets are just $10 and can be found in-store at The Bookshelf or online at www.onebookthomascounty.org.
You have plenty of time to get tickets and to read You're Not Listening along with us! Grab your copy at The Bookshelf here, the library, or read along with us from far away by snagging a copy at your own local indie.
From the Front Porch is a weekly podcast production of The Bookshelf, an independent bookstore in South Georgia. You can follow The Bookshelf's daily happenings on Instagram at @bookshelftville, and all the books from today's episode can be purchased online through our store website, www.bookshelfthomasville.com. 
A full transcript of today's episode can be found here.
Special thanks to Dylan and his team at Studio D Podcast Production for sound and editing and for our theme music, which sets the perfect warm and friendly tone for our Thursday conversations. 
This week, Annie is reading You Could Make This Place Beautiful by Maggie Smith.
If you liked what you heard in today's episode, tell us by leaving a review on Apple Podcasts. You can also support us on Patreon, where you can access bonus content, monthly live Porch Visits with Annie, our monthly live Patreon Book Club with Bookshelf staffers, Conquer a Classic episodes with Hunter, and more. Just go to patreon.com/fromthefrontporch.
We're so grateful for you, and we look forward to meeting back here next week.
Our Executive Producers are...Ashley Ferrell, Cammy Tidwell, Chanta Combs, Chantalle C, Kate O'Connell, Kristin May, Laurie Johnson, Linda Lee Drozt, Martha, Nicole Marsee, Stacy Laue, Stephanie Dean, Susan Hulings, and Wendi Jenkins.